Being a new author I am enjoying this voyage of learning. As an artist I have always enjoyed creating, to see something come into being having started from nothing and then have others enjoy it so very much, that brings me joy.
I find the same enjoyment in my writing and feel so blessed every time I get such wonderful feedback from my readers.
Many thanks to all of you who have helped make this possible by purchasing my books.
~ Francis Elder II
---
NEWEST RELEASE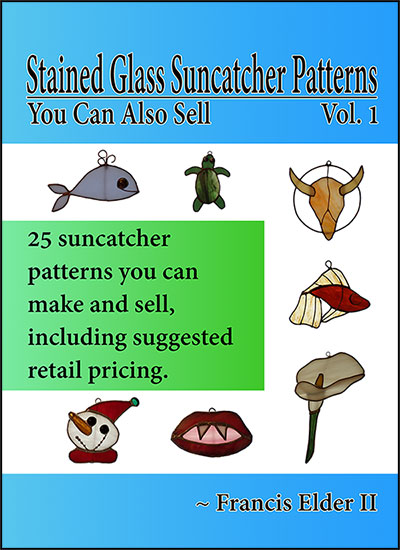 Stained Glass Suncatcher Patterns
You Can Also Sell
Vol. 1
Authored by Mr. Francis Elder II
List Price: $19.95
8.5" x 11" (21.59 x 27.94 cm)
Black & White on White paper
62 pages
ISBN-13: 978-1973794899
ISBN-10: 1973794896
BISAC: Crafts & Hobbies / Glass & Glassware
Volume 1
Stained Glass Suncatcher Patterns You Can Also Sell Vol. 1 is the first book in this series of pattern books by Francis Elder II.
The patterns each include a "use license", giving you the purchaser of the book the ability to use those patterns to create suncatchers and resell them, with no worry about copyright infringement issues.
Included are suggested retail price options for each of the patterns to help guide you, some will have multiple options available. There is over $850 worth of suggested retail included with this book that you will be able to create over and over again.
---